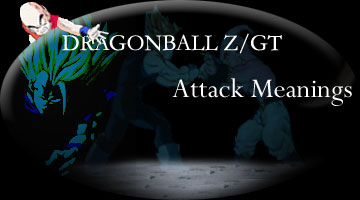 Akumaitokosen This is a special energy wave designed explicitly for a quick kill of one's opponent. When the wave strikes its victim, the evil in his heart expands and causes his heart to explode. Of course, the victim then must have some evil in his heart for the attack to work.

Bakuhatsuha By raising two fingers, the user of this attack can create a large explosion that will totally decimate the surrounding area or the ground under an opponent.

Bakurikimaha An ultimate ki attack, this is is an extremely powerful ki blast shot from one hand, the other hand is gripping the shooting hand's wrist for support.

Barrier This purely defensive technique forms a ki-shield around the body that protects the user from ki or similar attacks. There are two forms of this maneuver. One is a spherical shield that surrounds the body, the other is more of a coating of the body.

Big Bang Attack Created by Vegeta. Is a huge ki bolt of incredible destructive power. The person holds one flat palm forward towards his enemy and launches the bolt. Used to try to kill Cell but failed.

Body Change the leader of the Ginyu Force, Captain Ginyu, uses this technique. Ginyu spreads his limbs out, shouts "Change!" and shoots out a bolt of energy, and if it hits its target, Ginyu changes bodies with that person. Ginyu then gains the strength and speed of his target, but not his special techniques or ki. After changing bodies, Ginyu can still do a Body Change. Ginyu will change bodies with the first person to hit his change beam, and thus if someone gets in the way of his intended target, Ginyu will change bodies with that person instead.

Bukujutsu "No Air" The ability to fly with one's ki. Burning Attack A powerful energy blast shot from both hands. It is done when holding both hands forward, while doing some strange arm moves, and then put both hands forward again, index fingers and thumbs touching. Then release the blast.

Chou Kame Hame Ha "Ultimate" Kamehame-ha Goku uses it first while facing Piccolo in volume 16.

Chobakuretsumaha done when you power up the blast between the palms of the hands in front of his chest, then releases the blast.

Chonoryoku A very unique technique done when both hands, or a single hand are put forward which can manipulate the bodily movements of his opponent to an extent, providing that the opponent is not too powerful. The person can stop someone's movements or cause internal pain with this technique.